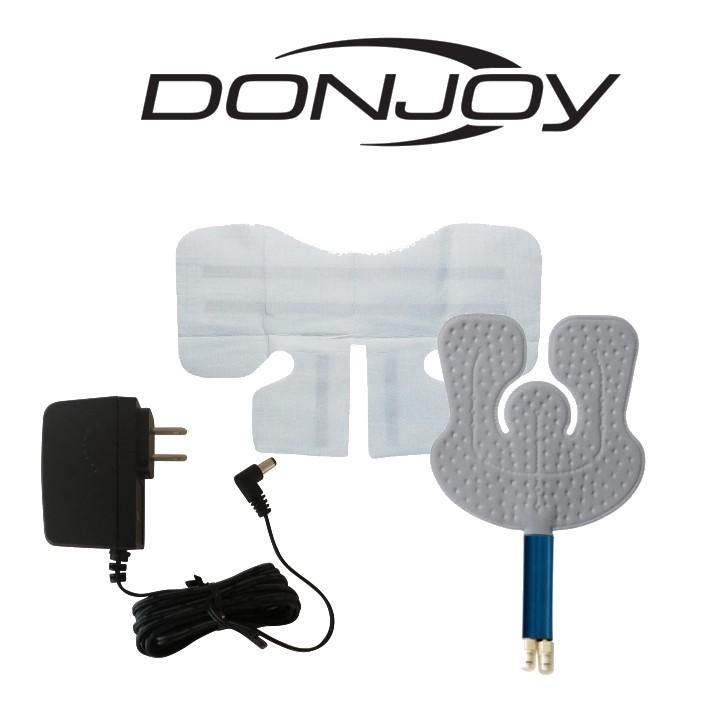 The DonJoy Iceman Accessories Collection provides a range of essential additions to your DonJoy cold therapy unit to ensure a seamless and effective recovery process.
DonJoy, a renowned name in the healthcare industry, has been a trusted provider of innovative orthopedic products for over four decades. Their commitment to excellence and cutting-edge technology has made them a leader in the field. DonJoy is known for their unwavering dedication to improving the lives of patients and athletes through top-tier products designed to aid in injury recovery and rehabilitation.
The DonJoy Iceman Accessories Collection is the perfect complement to your DonJoy cold therapy unit. Here's a glimpse of what you'll find in this comprehensive collection:
When your replacement pad wears out or needs an upgrade, the Clear3 Replacement Pads are your solution. These pads ensure controlled delivery of cold water to your recovering area, making it easier to manage post-operative pain and swelling with precision and comfort. With their advanced design, these replacement pads not only enhance your therapy experience but also offer peace of mind, knowing that you can rely on DonJoy's quality for your recovery journey.
When it's time for a replacement pad due to wear and tear or an upgrade, turn to the Classic3 Replacement Pads as your answer. These pads guarantee precise and comfortable delivery of cold water to your recovery site, facilitating the effective management of post-operative pain and swelling. DonJoy's commitment to excellence shines through in these replacement pads, providing you with the reliability you deserve during your rehabilitation process.
Tired of constantly fetching ice cubes from the fridge to keep your cold therapy unit running? Our IceFreeze Packs are the answer. Simply place them in your DonJoy cold therapy unit, and they'll maintain the perfect temperature for your therapy without the mess or hassle of traditional ice cubes. These packs are designed to be your convenient, mess-free solution for extended cold therapy sessions, ensuring you can focus on healing without interruptions.
Protect your skin from frostbite with these essential Sterile Dressing Pads. They act as a crucial barrier between the cold therapy pad and your skin, ensuring your safety and comfort throughout the recovery process. DonJoy's commitment to patient well-being is evident in these sterile dressing pads, offering you the peace of mind that comes from using quality products during your rehabilitation.
A simple yet vital addition to your collection, this power cord ensures your DonJoy cold therapy unit remains operational, keeping your recovery on track. The unit won't work without it. 
Upgrade your therapy experience with the Dual Connector, allowing you to activate two cold therapy pads from the same cooler. Maximize your recovery efficiency with this convenient accessory. The DonJoy Dual Connector is designed to simplify your therapy routine, providing the flexibility and convenience you need to address multiple areas simultaneously, enhancing your rehabilitation process.
Keep your cold therapy pads securely in place with our DonJoy Iceman Replacement Velcro Straps. Each pack contains three high-quality straps to ensure your comfort and safety during therapy. DonJoy's attention to detail shines through in these replacement straps, offering you the reliability and durability required for a successful recovery journey.
Designed with optimal dimensions of nearly 10 inches by 14 inches, this pad is ideal for lower back coverage. When combined with the compressive nature of the wrap, it becomes a potent tool for addressing lower back discomfort. Many surgeons don't even know this product exists because it is so cutting edge! Let us optimize your recover with this thoroughly helpful product. DonJoy's dedication to innovation and patient well-being is evident in this comprehensive cold therapy wrap, providing you with a tailored solution for your specific recovery needs.
And this is just the beginning – our DonJoy Iceman Accessories Collection boasts a wide range of products to cater to all your cold therapy needs. With Supply PT and DonJoy by your side, you can trust that your recovery journey will be smooth, efficient, and comfortable.
Thank you for exploring the DonJoy Iceman Accessories Collection. We look forward to assisting you in your quest for optimal recovery and well-being. Feel free to reach out to our expert team if you have any questions or need assistance in selecting the perfect accessories for your DonJoy cold therapy unit.